COMPANY —
Canam provides Quality Products by Quality Individuals.
Established in 1990, Canam Pipe & Supply is made up of a team of individuals – in both Western and International locations –  committed to servicing our customers with integrity and quality. We are built on a foundation of excellence, trusted relationships and international experience. The entire Canam team is dedicated to providing ultimate customer satisfaction.
See "Our History" for a look at Canam over the many years.
SERVICES —
We are a Solution Provider.
Canam Pipe & Supply is respected for supplying quality products from anywhere, to anywhere. Each of our client's needs are unique. Our extensive expertise allows us to provide tailored solutions for each of those needs.
We have long-established associations with manufacturers in:
Eastern & Western Europe,

North America,

Southeast Asia,

China,

Middle East and the former Soviet Union.
Our experienced team have first-hand knowledge of the global market and best practices for purchasing and shipping equipment to strategic locations. Reputed for successfully serving a global market, our awareness of required exporting documentation has continually saved our customers time and money with customs clearance and international procedures.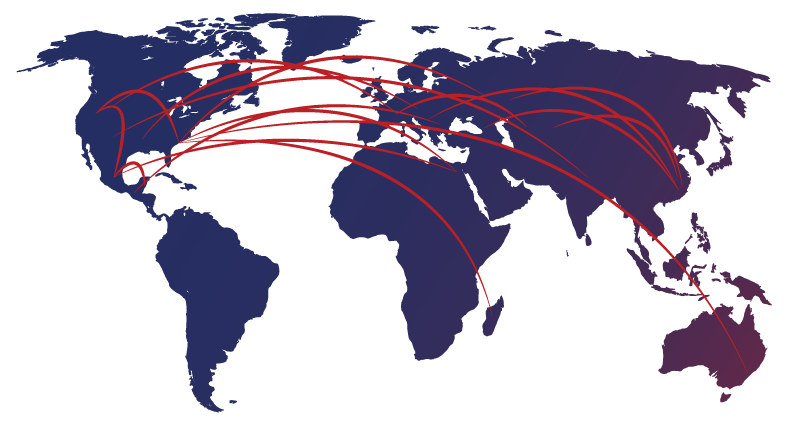 We have a Global Perspective.
Our extensive history in the FSU and area have provided years of accumulated international experience. We know the world is more globalized than ever and it's important to understand the rich international exchange of goods and the intricacies attached to buying and moving them.
Why this matters?

We have the experience and expertise to make your life easier. Our strong international relationships and exceptional service ethics are a testament to why we have successfully served our clients for so long. 
Proven to be reliable and fair priced, Canam is trusted for its buying, logistics and long-standing relationships with noted global manufacturers and suppliers. Our complete, seamless service provides quality assurance and mitigates your risk. Canam handles all financial aspects of the sale including:
payments

shipping

customs

brokerage

documentation

certification, etc
This equates to added Value for the Long-Term
Canam recognizes the changing requirements of its customer base and the need for increased local content, productivity and competitiveness. In response, Canam Pipe & Supply has registered local companies in Kazakhstan, China, Ukraine and Russia, to provide foreign oilfield equipment through locally registered companies. Representing a large number of major manufacturers allows Canam to supply a complete range of equipment to support all aspects of the oil and gas industry.
SUPPORT SERVICES —
We provide an Essential Service.
Because we do everything. This includes support services for In-field Installation, Lift Contractors. inventory Management, and Consultancy and Personal Services. 
Installation, Quality Equipment & Technical Support
At Canam we are committed to assisting operators make the right product selection that will provide built-for-purpose equipment. Our extensive in-house product expertise allows us to offer technical support that leads to added value for worldwide customers.
Our team of employees have training in the specific areas of our representation. We have in-house expertise in Fishing Tools, Pressure Control, Pipe & Threaded Connections, Heating, Artificial Lift, Sand Control and Downhole Completion Tools. We also offer technical presentations that may include the expertise of the manufacturer and infield training. All of the products we represent are approved or licensed by an accredited authority such as: API, ANSI, UL, CSA, ISO or GOST.
Inventory Management
A business's inventory is one of its major assets and represents an investment that is tied up until the item is sold or used in the production of an item that is sold. It also costs money to store, track and insure inventory. Inventories that are mismanaged can create significant financial problems for a business, whether the mismanagement results in an inventory glut or an inventory shortage. Canam has inventory control specialists that can help you develop and manage internal inventory systems and are responsible for maintaining accuracy, cycle counting, shipping and receiving, and managing order-picking operations.
Consultancy & Personal Services
Canam has specialists that handle legal, contractual, banking and treasury services.